Shopping Cart
Your Cart is Empty
There was an error with PayPal
Click here to try again
Thank you for your business!
You should be receiving an order confirmation from Paypal shortly.
Exit Shopping Cart
THE HEAD OF THE ROYAL HOUSE OF GEORGIA MEETS THE PATRIARCH OF THE HOLY CITY OF JERUSALEM –September 13, 2016
His Royal Highness Prince Nugzar Bagrationi-Gruzinski (TICAN Royal Patron), Head of the Royal House of Georgia (second left) meets the Patriarch of Holy City Jerusalem His Beatitude Theophilos III. HRH Princess Ana, heir to the Royal House (far right).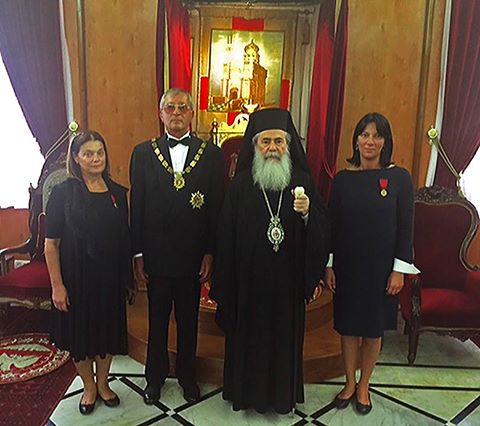 The city of Jerusalem is significant in a number of religious traditions, including the Abrahamic religions Judaism, Christianity, and Islam, which consider it a holy city. Some of the most sacred places for each of these religions are found in Jerusalem and the one shared between all three is the Temple Mount.

It was on 13th September 2016 when the Royal family of Georgia, held in warm and friendly atmosphere, visited the Patriarch. HRH Crown Prince noted an important role of His Beatitude in Christianity as whole and bestowed upon him the highest Dynastic Order of St. King David the Psalmist what was received with much gratitude by the Patriarch of Jerusalem. In his part His Beatitude gifted the royal family with holy icons, souvenirs and blessed the royal family.

His Beatitude Theophilos III, Is the current Patriarch of the Orthodox Church of Jerusalem. He is styled "Patriarch of the Holy City of Jerusalem and all Palestine and Israel. Theophilos (also spelled Theofilos or Theophilus) was elected by the Holy Synod of Jerusalem as the 141st primate of the Orthodox Church of Jerusalem on 22 August 2005, confirmed by the Eastern Orthodox synod of Constantinople.

 

Categories: None

0

/